Good Afternoon Friends! 
I hope you all are doing well. 🙂 Today is the Captain's birthday, so a very special shout out to my dear husband on this very special day. Happy Birthday Mahal ko. May you have many, many more wonderful birthdays! ❤ Now, today we are discussing a Disney princess that changed the face of Disney as a whole. She was the first Disney character to storm the scene and represent Asians. Yes, today we are discussing Fa Mulan! She is powerful. She is fierce, and she stands up for what she believes in! Are you ready to explore her with me? Then, let's dive in! 🙂 
I. Fa Mulan: 
Boldness: is confidence that what I have to say is true, right, and just. 
Have you ever had a time where you had to speak up for what you felt was right in your heart? Was it a difficult thing to do? In Disney's "Mulan", Fa Mulan was a young girl who saw her father being drafted into the Imperial Army of China to fight against the invading Huns. She knew that her father was older and lacked the capacity to fight in another war. Fearing for his life she decided to disguise herself as a male soldier and take his place. The soldiers saw battle and unfortunately Fa Mulan was injured. In her medical treatment she was discovered to be a woman, (which at the time, posing as a male while being a woman in the army was punishable by death!). Throughout the movie Mulan was called to speak up for what she felt was right. She made decisions with careful thinking and consideration for everyone involved in the situation. She stayed true to her convictions and acted accordingly without trying to hurt others. 
There are times when we will be called to speak up for what we feel is right. Right now the world feels "upside down". We are living in a pandemic and the many voices and opinions of the masses often conflict with each other. Yet, deep down… you know what you believe in your heart and mind. Listen to that voice. Follow your heart just as Mulan did, and it won't steer you wrong. ❤ 
II. Disney Bounding Outfit: 
III. Little Space Activity: Make Chinese Drums!
Ingredients Needed:
2 paper plates 
1 stick
Tape 
Coloring supplies 
Glue 
2 pieces of string
2 bells, small rocks, or acorns
Printed pictures of any Chinese images you enjoy 🙂 
Instructions: 
Color each side of the paper plate. Next, glue on images that you printed from online. 
Attach the 2 bells/rocks/or acorns to the ends of each string. Then, tape the strings on the inside edges of each side of the paper plate. Place the other paper plate on top and glue to seal it closed. 
Tape the stick at the bottom of the paper plates, and you're done! Roll the stick between your hands and listen to your drum bang like the drums in "Mulan"! 
IV. Personal Development Lesson: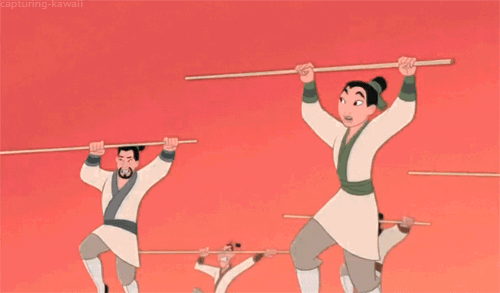 In today's personal development lesson I'd like to focus on how we can instill "boldness" into ourselves as dominants and submissives. Throughout many blog posts on here I have written at length about "red flags" to avoid when choosing a potential D/s partner. I have discussed the important questions to ask a new dominant, or the questions you need to ask a new submissive. But when you're actually in a D/s relationship, your voice is more important than ever. The work doesn't stop just because you set the foundation for your relationship. D/s relationships are all about open communication and trust. As partners you will be ever-evolving and growing as individuals. Your tastes and preferences will change as you age and grow. This is completely normal. 
I encourage you to always have a voice in your D/s relationship. Speak up as time goes by and you need to modify rules and aspects within your relationship. Perhaps you began your journey as a couple at a point where you wanted to explore being an Adult Baby, but over time you realized that you were more of a Middle? Speak up! Let your dominant know that your tastes have changed. Dominants, if you feel that your style of guiding your Little is changing I hope you speak up too. Let your submissive know what your ever-evolving needs are, so that you can continue to grow together as a couple. It's normal for two partners to grow and change as life goes on. The key is to keep talking, sharing, and working together to always grow back together as you change as people. I know you can do it! I'm cheering you on. ❤ 
Alright my friends, that's it from me for today's post. I hope you all enjoyed it. If you did, hit that like button and let me know. Smash that follow button if you're new around here. 🙂 And I will see you back here for the next topic! 
Don't forget to come chat with me and all of my Little and Dominant friends on: https://www.mrbones.zone/chat Tonight we will be watching "The Emperor's New Groove" from 5-7 pm PST. I hope you will join us!! 
I can't wait to chat with all of you!!
Much love,
~Penny xx