Good Evening Friends! 
When we think about "Monster's Inc." it's hard not to think of the little girl, Boo, and her big, blue, furry pal, Sully. As adult Littles we all want to be embraced by our dominant and swept up like a tiny plushie, am I right? 😉 Tonight we're going to dive deeper into how we can have faith in our dominant, how to feel small, and how to dress like Boo too! Are you ready? Then, let's dive in. ❤ 
I. Boo: 
Childlike Faith: is feeling full of wonder and awe. It is something that we should never lose. Let us maintain our enthusiasm and never lose that spark.
Can you imagine going to sleep in your bed only to wake up to a monster bursting out of your closet to scare you? The evil monster, Randall, did just that to Boo when she went to bed at night. Yet, her curiosity to discover the world of monsters was larger, and she toddled into a magical world apart from her own. There she met Sully and Mike who helped protect her from monsters who would do her harm. Though Sully was the top scarer at the monster factory, Boo had childlike faith that Sully was good… and she was right. She held unconditional love, trust, and enthusiasm for the pair as they tried to help her get back safely to her bedroom. 
As adult littles we too can have childlike faith in our dominants. I admit that it's easy to fall into the habit of doing the same thing in Little Space each and every time. This is why I encourage you to shake things up and keep the fun alive in your Cg/l relationship. Leave each other little love notes. Encourage your partner from a place of authentic passion and happiness. Never allow too much time to pass before you keep working on your relationship. Think of it like a tiny, fragile plant. Nurture your connection and help it to grow. As you do, you will retain that "spark" and enthusiasm for your relationship, and it will reflect in the way you treat your partner. ❤ 
II. Disney Bounding Outfit: 
III. Little Space Activity: Make Mike and Sully Painted Rocks!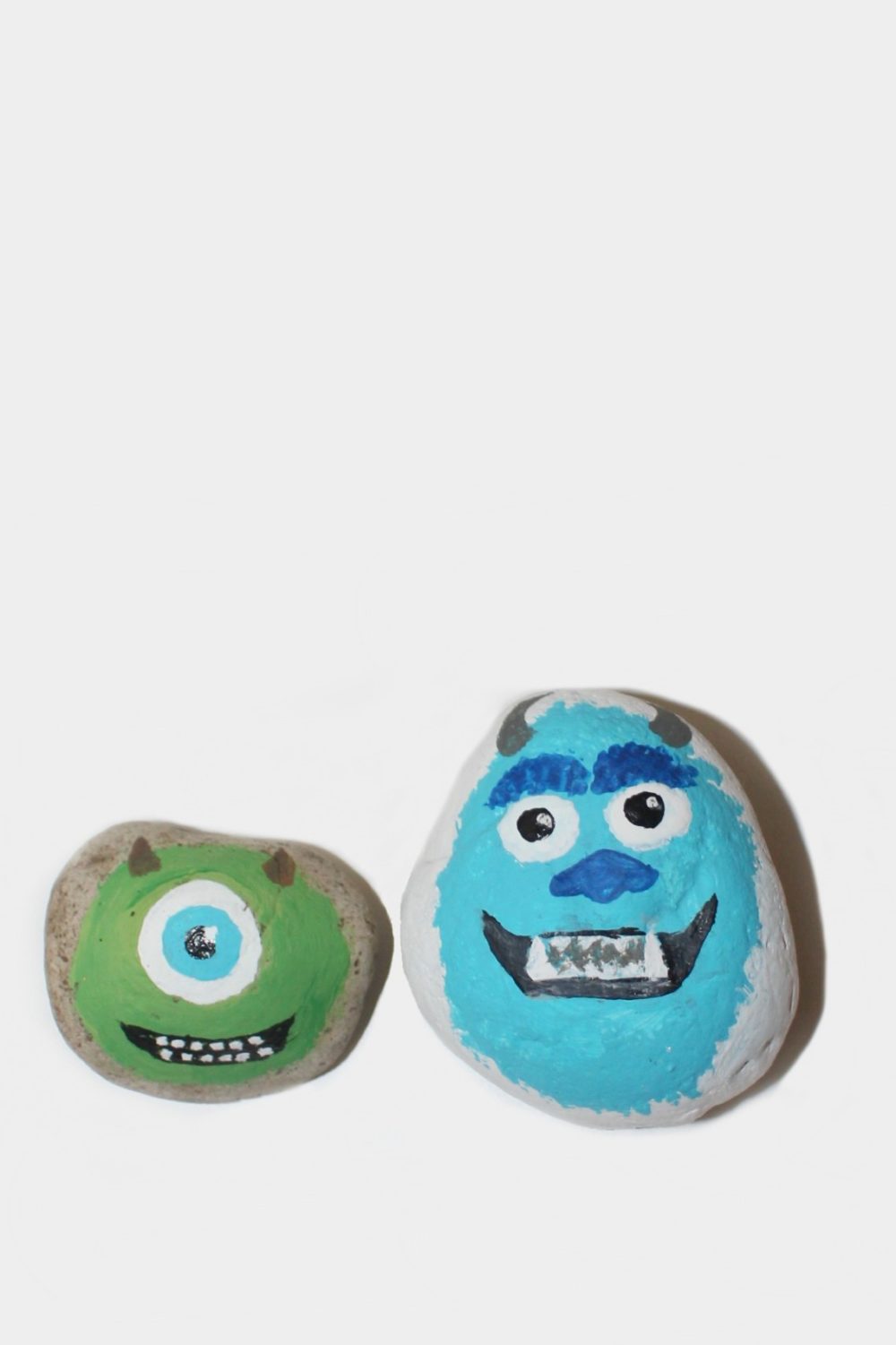 IV. Personal Development Lesson: 
In every relationship there is a "honeymoon" phase. Cg/l relationships are no different. At first you begin the getting to know you stage. Things are exciting, new, and fresh. You get to dive into each other and ask a million questions as you learn each other's kinks, quirks, and everything in between. Then as you begin to connect, and things flow well, you begin to form an emotional attachment. Slowly you shift into a mindset of wanting to talk to your partner daily. You think about them when you're apart. You make mini "dates" of times to connect and chat when you're apart, and you yearn for the precious moments when you can be together. After spending enough time in this quasi-stage you both realize that you're simply… together. You claim them and they claim you. Your days revolve around your relationship, and pet names develop. After dancing around every other word… you finally drop the "L" word and confess that you love your partner. Time goes by and you are so connected to your dominant that your heart could burst with glee! 
And then… things begin to settle. You enter a stage where you've been together for a good while. You know each and understand your partner's daily habits intimately. Things get comfortable. How can we retain our childlike faith when things get comfortable? Here's a few ideas to get you started:
Lots of physical touch! Snuggle up with your dominant and express your love. 
Draw them pictures to simply make them smile. 
Spend quality time together. (And no, I'm not talking about watching a movie. Talk to each other!). 
Go for a walk and hold hands. (Bonus points if you hold their first two fingers 😉 ). 
Cook each other meals that you know your partner would enjoy
Speak honestly, and support your partner when they express their needs. 
Try different forms of play. (Sexual or Non-sexual). 
Never stop creating, growing, believing, trusting, and fighting for your bond. Connections with partners is one of the most beautiful aspects about life. Let love be at the core of all you do. 
Alright my friends, that's it from me for today's post. I hope you all enjoyed it. If you did, hit that like button and let me know. Smash that follow button if you're new around here. 
 And I will see you back here for the next topic!
Don't forget to come chat with me and all of my Little and Dominant friends at: The Berry Patch Tomorrow we will be watching "Lilo and Stitch" from 5-7 pm PST. I hope you will join us!!
I can't wait to chat with all of you!!
Much love,
~Penny xx