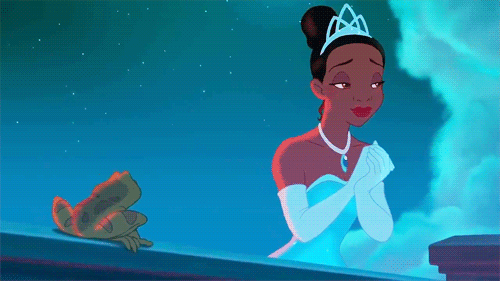 Good Morning Friends! 
Happy Friday!! I hope you all are excited for the weekend. Do you have plans? A giant, virtual hug and thank you to all the new faces who have joined The Berry Patch Discord Server. I'm looking forward to getting to know all of you better! For those interested, tonight we are hosting the following events: 
Pre-Movie Activity: Voice Chat Tea Party 
Movie Night: Disney's "Brave" (Princess Merida!) 
Today we are heading down into the Deep South of the U.S. (Louisiana to be exact). There in Cajun Country lives a story about a hard-working girl who had big dreams of opening her own bakery. Her name is Tiana. This movie is about a girl, a prince, a frog, and a lesson about humility. Are you ready to explore this movie with me? Then, let's dive in! 🙂
I. Tiana:
Thriftiness: is not letting myself or others spend that which is not necessary.
I remember the first time I watched "The Princess and the Frog". Tiana was working hard for literal pennies to try and have enough money to achieve her dream of opening up a bakery. She and her father had discussed her plans for nearly 20 years. As Tiana grew, she took on working 2 jobs, sleeping very little, and never went out on a date. Her entire life revolved around hustling for her dream. I remember when I was much younger working hard for a tiny paycheck. I had a minimum wage job. I was living on food stamps. Everything was tight and I had to be extremely thrifty. Many times people will frown upon those who are thrifty. The consumer-driven mindset will dominate society, and those who cannot afford such things are viewed as "lesser than". Well, I'm here to say that thriftiness is actually a quality you want to have!
Tiana ate quick bites of food at the cafe where she worked. She used scrap materials to make her own clothing. She pulled together the most basic ingredients to make a giant pot of gumbo. She knew how to be "scrappy" in the most difficult times, and that is a trait that we can all learn from. There will be times when you don't have the money to buy a onesie, bottle, or pacifier. There will be times when you don't have the time or resources to attend a Cg/l convention. Does that make you any less of a Little, or any less part of this lifestyle/community? Absolutely not!!
You can be thrifty and still feel like a Little inside. You can save your money, work hard towards your goals, all while affording this lifestyle, and today I'm going to show you how. 😉 ❤
II. Disney Bounding Outfit:
III. Little Space Activity: Dot Painting!
Get some paint, Q-tips, and black construction paper and create your own dot painting of Princess Tiana. Simply dip the Q-tip into the paint and make dots in various color to create the image!
IV. Personal Development Lesson:
There are many ways that you can be thrifty and still be in a Cg/l relationship (or not!). Whether you're an Adult Baby, Middle, Little, Brat, Prince/Princess, etc. there are a number of ways to save money while living this lifestyle. Today I'd like to share a few ideas to get your mind "bubbling". They are as follows:
Go on $5 dates with your dominant. (Don't forget your face mask and hand sanitizer!)
Cook a meal in together. Bonus points if you cook a meal that is themed around a movie you want to watch together.
Split a meal out! America is especially notorious for giving large portions of food. Try ordering one meal, cutting it in half, and eating the meal together. You'll spend half of the money and consume half of the calories!
Workout together. You don't need a gym membership to get fit with your dominant. Try walking on a trail together. Go for a bike ride. Take a swim at a community pool, or find a free public workout class in your area!
Have a dance party at home. Bring music into your Little Space as you "bust a move" with your dominant. You both will be laughing in no time!
Create an at home movie theater. Going to the movies/cinema can be very expensive. But for just a couple of dollars you can: buy microwave popcorn, stream a movie, purchase your favorite candy, and put a beverage in a large tumbler. Then, you're set! Don't forget to snuggle up. 😉
Make at home baby food. This is especially fun for Cg/l couples who have an adult baby in the relationship. Consider cooking mushy peas, honey glazed carrots, or mashed sweet potatoes, and then pureeing them in the blender. They will taste delicious and you will save tons of money making your own baby food to eat in Little Space!
Play dress up with your dominant. Have you ever wanted to dress up like a prince, princess, mermaid, fairy, etc.? Dig through your wardrobe at home and see what fun costumes you can come up with together as a couple!
Host a Teddy Bear Picnic. It's so much fun (and super cheap!) to grab your stuffies, make a simple lunch, grab a large blanket, and have a picnic outside. Bonus points if your dominant reads you and your stuffies a story.
Build an indoor camping tent. With just a few blankets, sheets, and a retractable clothing line, you can make a fort fit for a king! Turn your living room into a special nook for you and your dominant. Then snuggle up and "camp" together in your bungalow for two.
Design your own pacifier. While you can spend a bit more money to get a customized pacifier, a thrifty way to get a cute "binky" is to get a plain adult pacifier (for cheap!), then hot glue on beads and jewels to reflect your own personal style!
Go for a drive! Driving your Little around town to see the world in a different way is a wonderful way to get out, stay safe from the pandemic, and give your brain a break from being home all the time.
Play video games together. While many video games do cost money, there are a ton of video games for Cg/l couples to enjoy (especially on Steam!) that are "Free to Play". Dive in and see what you both enjoy!
Alright my friends, that's it from me for today's post. I hope you all enjoyed it. If you did, hit that like button and let me know. Smash that follow button if you're new around here. And I will see you back here for the next topic!
Don't forget to come chat with me and all of my Little and Dominant friends at: The Berry Patch Tonight we will be watching "Brave" from 5-7 pm PST. I hope you will join us!!
I can't wait to chat with all of you!!
Much love,
~Penny xx