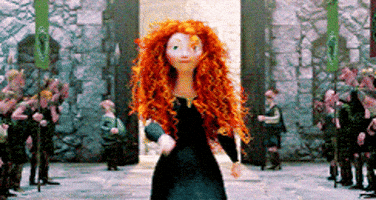 Good Afternoon Friends! 
I hope you all are excited to dive into the weekend. Around here I am getting ready for The Berry Patch's Discord tea party pre-movie event beginning at 4 pm PST, and YOU all are invited!! Today we are going to be discussing confidence and why it is such an important quality to have in a D/s relationship. And who better to display this quality than the fiery, sassy, Scottish redhead… Princess Merida! Are you ready to explore her more with me? Then, let's dive in! 🙂 
I. Princess Merida: 
Confidence: a feeling or consciousness of one's powers or of reliance on one's circumstances

Merriam Webster Dictionary
"My name is Merida… and I will be shooting for my OWN hand at today's tournament!". Merida stood there in absolute defiance, standing up for what she believed in. Her parents and clan were mortified. The other clans were stunned to silence. But Merida is a Disney character that is representative of making your own fate. She is a girl who defied the odds that you don't need a partner to live "happily ever after". You can make your own happily ever after!! This is what Merida is all about. Throughout the movie Merida had to learn to trust her mother while still learning how to have her own thoughts and opinions. The strong-willed girl who was once seen as a rebel, was able to demonstrate to her other that she could take responsibility and do what was expected of her. Deep down, Merida knew that she had all the skills and knowledge to help her mother turn back into a human from a bear. She just needed to believe in herself and to work with her mother. The pair adventure through this movie healing their mother-daughter bond, and learning individual lessons along the way. It's a beautiful story. Merida's actions of learning to be self-reliant and confident are what makes her an excellent role model for Littles!
II. Disney Bounding Outfit:
III. Little Space Activity: Merida "Foot" Painting!
Using several different paint colors, paint the bottom of your foot teal and white. Then, use a paintbrush to paint in Merida's hair. Get messy and wild! Enjoy feeling small and happy. you can do it!! 🙂
IV. Personal Development Lesson:
Knowledge is power. I've probably said this 100,000 times here on my blog, but I truly believe that it's true. Confidence as a submissive, dominant, switch, or any other form of D/s comes from being knowledgeable and having experience. The key is taking that very first step. To every lifestyle member out there, here are a few tips that I recommend to help you gain confidence in who you are, what you need, and what you're looking for. I hope these tips help you:
Write down a list of what your wants, needs, and expectations are from a D/s relationship.
Read books about BDSM and Cg/l. If you need help getting started on a reading list, click here.
Watch YouTubers in the lifestyle! (But also remember that every Little Space is different. Simply watch to get inspiration or understanding about various ways that Littles express themselves).
Practice doing a simple play session. Get in the habit of planning it out, playing together, having aftercare, and debriefing together about how it went.
Sit down and ask each other intimate questions that will help you get to know each other better.
Watch TED Talks on BDSM. There are plenty of fascinating TED Talks on BDSM and Sexual Health
Talk with people in the lifestyle! Chat with people on Cg/l forums, discussion board, or on Discord… like The Berry Patch! (My Discord server, hehe! <3).
Practice, practice, practice! You can read all of the BDSM books in the world… but if you never put any of it into practice then you won't be able to feel your connection to your dominant, submissive, or switch side. Bring the knowledge to life and allow yourself to regress.
Alright my friends, that's it from me for today's post. I hope you all enjoyed it. If you did, hit that like button and let me know. Smash that follow button if you're new around here. And I will see you back here for the next topic!
Don't forget to come chat with me and all of my Little and Dominant friends at: The Berry Patch Tonight we will be watching "Brave" from 5-7 pm PST. I hope you will join us!!
I can't wait to chat with all of you!!
Much love,
~Penny xx